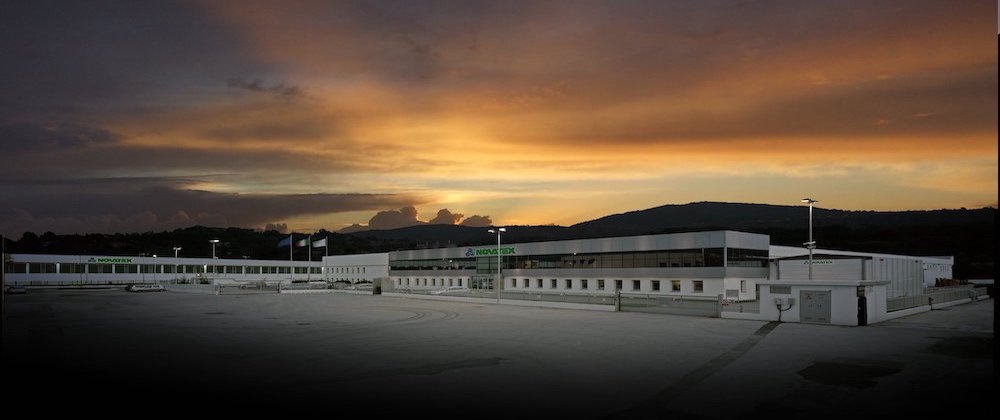 Innowacyjność, jakość i doskonała obsługa. To główne składniki sukcesu firmy Novatex, która jest światowym liderem w produkcji siatek rolniczych. Innymi słowy, siatek używanych do belowania słomy, siana i lucerny. Historia Novatex rozpoczęła się w 1977 roku, ale prawdziwy punkt zwrotny nastąpił kilka lat później wraz z wprowadzeniem na rynek siatek do pras belujących.
Novatex jest jedyną firmą na świecie, która posiada własną technologię produkcji, która została opracowaną, zaprojektowaną i rozwiniętą w ramach firmy."W tamtych czasach nikt nie był w stanie zrobić tego samego – mówi Natale Castagna, prezes Novatex Italia – i ta różnica w stosunku do innych firm jest dzisiaj chyba jeszcze bardziej wyraźna". Novatex ma nadzwyczajną przewagę konkurencyjną pod względem elastyczności i wydajności, która jest niedostępna dla innych graczy na rynku. Siatki Novatex są obecne w każdym zakątku świata. Kierownictwo ma swoją siedzibę w Europie, ale firma ma wizję prowadzenia biznesu na skalę globalną.
Dokonano inwestycji mających na celu zwiększenie możliwości wykorzystania zasobów oraz rozwój działalności również na półkuli południowej, co ma pomóc w sezonowym dostosowaniu oferty na rynki w Australii, Nowej Zelandii oraz Ameryce Południowej. Kolejnym wyzwaniem dla firmy było wprowadzenie siatek Novatex na rynek japoński, który zawsze sprzyjał produktom "Made in Italy". Następnie Novatex jako pionier planował wejść na rynek północnoamerykański.
Ewolucja z solidnej firmy krajowej w kierunku gracza o zasięgu globalnym została teraz potwierdzona przez nowo powstałą markę Agri Novatex, dzięki której firma definiuje swój system przedstawicielski i swoją światową rolę. To globalne podejście nie ma na celu homologacji, ale raczej odwołanie się do lokalnych korzeni, tak aby podkreślić i połączyć różne doświadczenia, dając szansę wzbogacenia wartości całej grupy. Stworzenie marki Agri Novatex jest wyrazem rzeczywistego zaangażowania firmy w zbliżenie się do odległych rynków i zaakcentowanie swojej lokalnej obecności poprzez struktury techniczne i handlowe zdolne do zaspokojenia lokalnych potrzeb rolników, dealerów i dystrybutorów. Na podstawie doświadczeń Agri Novatex France, która od lat wzmacnia obecność spółki na francuskim rynku, firma Novatex jest teraz obecna w Polsce, Wielkiej Brytanii, Australii i RPA. Szczególnym przypadkiem są doświadczenia z Ameryki Północnej, gdzie Novatex prowadzi działalność bezpośrednio poprzez Committed AG, z siedzibą w Letherbridge, w stanie Alberta, w Kanadzie. Przygoda z Committed AG jest ucieleśnieniem intuicji firmy Novatex i jej zdolności do łączenia kompetencji i know-how, przy jednoczesnej integracji z lokalnymi przedsiębiorstwami działającymi na dynamicznie rozwijających się rynkach.
Żadna firma nie stanie się wielka bez wielkich ludzi. I to jest trzeci klucz do sukcesu Novatex – uwaga poświęcana ludziom. Novatex realizuje program ciągłego uczenia się, którego celem jest rozwijanie wewnętrznych zasobów. Firma daje swojemu kierownictwu i pracownikom możliwość czerpania zadowolenia z własnej pracy, utrzymania wysokich standardów bezpieczeństwa w fabrykach oraz dbania o zdrowie pracowników.
Świat wartości firmy Novatex zakłada również politykę zrównoważonego rozwoju w zakresie ochrony środowiska. Wytyczne firmy sprzyjają ważnym inwestycjom, również w celu zmniejszenia ilości tworzyw sztucznych zawartych w produktach, czego dowodem może być niedawne wprowadzenie technologii ME+.
Zgodnie ze słowami p. Castagna, wydaje się paradoksem, że dziś główne wyzwania wynikają z samego środowiska."Tropikalizacja i globalne ocieplenie nie stanowią chwilowych zmiennych, lecz stałe czynniki, z którymi musimy się mierzyć". Zmiany te muszą stanowić dla nas zachętę do poszukiwania nowych rozwiązań. W szczególności ewolucja, która doprowadziła Novatex do opracowania innowacyjnych produktów, takich jak ME Tech i ME+Tech, może potwierdzić zdolność Grupy Novatex do podejmowania wyzwań i przekształcania ich w realne możliwości.
http://blog.novatex.ag/wp-content/uploads/2021/05/Novatex-HQ_Oggiono.jpg
420
1000
Tergo Media
http://blog.novatex.ag/wp-content/uploads/2021/01/logo-novatex-2015_COL_piccolo-NO-FONDO.png
Tergo Media
2021-05-11 16:19:52
2021-05-11 16:21:03
Agri Novatex jest nową globalną marką Novatex Italia.