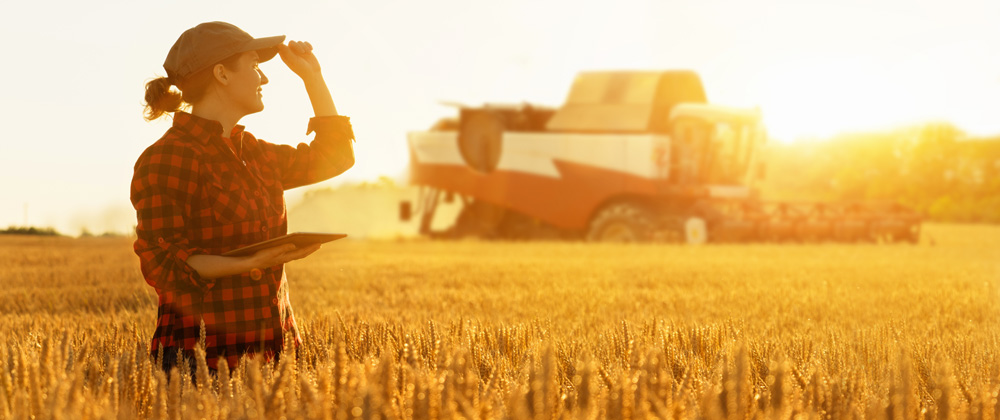 Internet rzeczy (z ang. Internet of Things) w rolnictwie
W wielu gałęziach przemysłu Internet rzeczy staje się coraz bardziej popularny.
To, o czym często się za dużo nie mówi jest to, jak duże znaczenie Internet rzeczy może mieć dla rolnictwa. Te nowe innowacje technologiczne mogą zwiększyć plony i ratować życie. To jest powód, dla którego ta sprawa ostatnio przyciąga tyle uwagi.
Ale czym dokładnie jest Internet rzeczy?
Internet rzeczy (Internet of Things) to koncepcja "inteligentnych" urządzeń, które mogą połączyć się z Internetem lub innymi urządzeniami. Koncepcja ta umożliwia zdalne wykrywanie obecności i sterowanie obiektami fizycznymi, stwarzając możliwości bardziej bezpośredniej integracji pomiędzy światem fizycznym a systemami komputerowymi. Nasz świat jest połączony cyfrowo, a dane są krytycznym zasobem. Dane z urządzeń mogą kierować decyzjami rolników, pomagając im pracować mądrzej i bezpieczniej oraz szybciej dostosowywać się do zmieniających się warunków.
Efektywność w rolnictwie polega na zdolności rolnika do przewidywania warunków naturalnych i jak najszybszego reagowania na nie. Jeszcze kilkadziesiąt lat temu precyzja takich prognoz nie była tak wiarygodna – teraz jest imponująco wysoka dzięki natychmiastowemu gromadzeniu i dystrybucji danych.
Internet rzeczy z powodzeniem służy rolnictwu precyzyjnemu jako nowy kierunek i służy poprawie jakości gromadzonych danych i ich zastosowania w polu.
Rolnictwo oparte na Internecie rzeczy pomaga rolnikom, ograniczając straty plonów oraz redukując negatywny wpływ na środowisko. Pozwala to na uzyskanie maksymalnej ilości plonów z każdego pola.
Dzięki nowoczesnym technologiom dzisiejsze systemy monitorowania plonów zapewniają operatorom interfejs użytkownika, który zawiera mapę przestrzenną pokazującą plony zboża zebranego z już skoszonej części pola. Technologie te dostarczają rolnikom dodatkowych informacji na poziomie gospodarstwa rolnego w celu zarządzania ryzykiem i bardziej precyzyjnego zarządzania nawozami, materiałem siewnym i herbicydami.
Inne ważne zastosowania inteligentnego rolnictwa są związane z sianokosami.
Na przykład w krajach, gdzie wysokie temperatury mogą stanowić zagrożenie dla składowania plonów, opracowano bezprzewodowe systemy monitorowania siana. Poręczne sondy umieszczone wewnątrz bel są podłączone do Internetu, dzięki czemu rolnik może bez problemu i w czasie rzeczywistym monitorować temperaturę siana. Rolnik może łatwo sprawdzić temperaturę siana, kiedy tylko zechce, a także otrzymać alarm na swój telefon, jeśli temperatura wzrośnie do niebezpiecznego poziomu. Ta sama technologia internetowa może być zastosowana do opracowania czujników wykrywających poziom wilgotności przed belowaniem. Może to przynieść sporo korzyści:
– lepszą jakość paszy,
– oszczędność czasu dzięki uniknięciu zbyt wielu przejazdów, aby sprawdzić stan pokosu na miejscu,
– lepszą kontrolę na szerokich polach, co pozwala rolnikowi na monitorowanie procesu suszenia w różnych strefach,
– a co najważniejsze, zwłaszcza dla wykonawców, możliwość sprawdzenia tego procesu na różnych polach ścinanych w różnym czasie.
Do tej pory stworzono tylko ręczne sondy wilgotności, ale interesujące byłoby opracowanie cyfrowego rozwiązania również w celu poradzenia sobie z "problemem wilgoci" tak, aby pomóc rolnikom. Zgodzisz się z tym?
http://blog.novatex.ag/wp-content/uploads/2021/05/IoT_1767327257.jpg
420
1000
Tergo Media
http://blog.novatex.ag/wp-content/uploads/2021/01/logo-novatex-2015_COL_piccolo-NO-FONDO.png
Tergo Media
2021-05-11 16:13:21
2021-05-11 16:13:22
Internet rzeczy (z ang. Internet of Things) w rolnictwie